Sanitary Flow Switches / Model NP-T
Available Only in Non-Explosion Proof Housings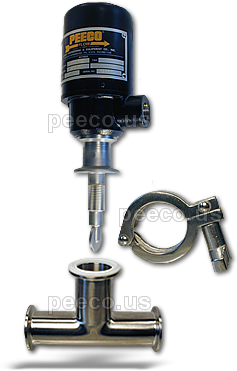 Our Model NP-T sanitary flow switches offer a stainless steel external bellows assembly which completely seals off the internal cavity of the flow switch.  Easily cleaned and/or easily removed from the line when used with PEECO tri-clover or tri-clamp assembly.
Available in all Models and Sizes
Available with Electropolish Finish **
Used in dairy and food processing industries
Style EB used in all cryogenic applications
Contamination free with copper-free or cadmium free brazed or welded assembly
** Electropolishing is a process that smoothes, deburrs, polishes and cleans many metals. Electropolishing is used primarily for stainless steel but may be used for steel, copper alloys, titanium, zinc, and many other metals. Electropolishing removes the high points on the surface of the metal making it  highly reflective and producing a unidirectional pattern that is stress and occlusion free.
By micro and macro polishing the part the electropolishing process removes hydrogen from the surface producing a hygienically clean, as well as microscopically smooth surface where dirt or bacteria can not accumulate. These properties make electropolishing ideal for pharmaceutical, medical, semi-conductor and food processing applications.
Attributes of Electropolishing:
polishes and deburrs odd shaped parts easily
prevents hydrogen embrittlement
low resistance welding surface
produces no directional lines
hygienically cleans surface
super corrosion resistant
decarbonization of metals
reduces annealing steps
provides stress relief
reduces friction
removes oxide
passivates
Standard Construction Materials
STANDARD MATERIALS OF CONSTRUCTION
Cover:
Heat Treated Aluminum 356-T6
Housing:
Heat Treated Aluminum 356-T6
Body:
Stainless Steel
Bellows:
Seamless 321 Stainless Steel
Stem Paddle:
302, 303 Stainless Steel
Bearings:
440C Stainless Steel Micro Ball
Name Plates:
Aluminum
Micro Switch:
15A, 125-250-480 VAC SPDT 1/2 A., 125VDC (see optional switches)